Stunning Poppy Display by Toddington WI
Many moons ago, Toddington WI, to celebrate anniversary of the end of WW2, decided to knit poppies to go around the Toddington roundabout. It was going to be a project in readiness for their 75th birthday, then lockdown happened and it became their Lockdown Project giving the ladies something to concentrate on, discuss and a chance to occasionally see someone (albeit only at their gate dropping off extra balls of wool!).
As lockdown continued, so the number of poppies grew and they came up with the idea of making a cloak. One of the ladies made a purple poppy wreath which was attached to the horse. A local metal work artist (Ed Alvis) had already made the solider and placed him on Toddington roundabout. Ed was asked if the cloak could be hung from the solider, and the ladies of the WI mentioned they were knitting some purple poppies in memory of the horses and animals that died. Ed was also asked if he could make a WI sign celebrating their 75 years. He did a superb job, and the horse was amazing. His mum (Nancy) was a WI member of Toddington from its beginning and an active member throughout her life.
After making the cloak. there were poppies left over so they were added to some camouflage netting which was attached to the horse. Attention then moved to the War Memorial opposite; again the ladies rose to the occasion and there are two rows of poppies going around the plinth.
The response from the public has been unsurprisingly positive, and the installation has moved some to tears; it is an emotional and fitting tribute to the fallen.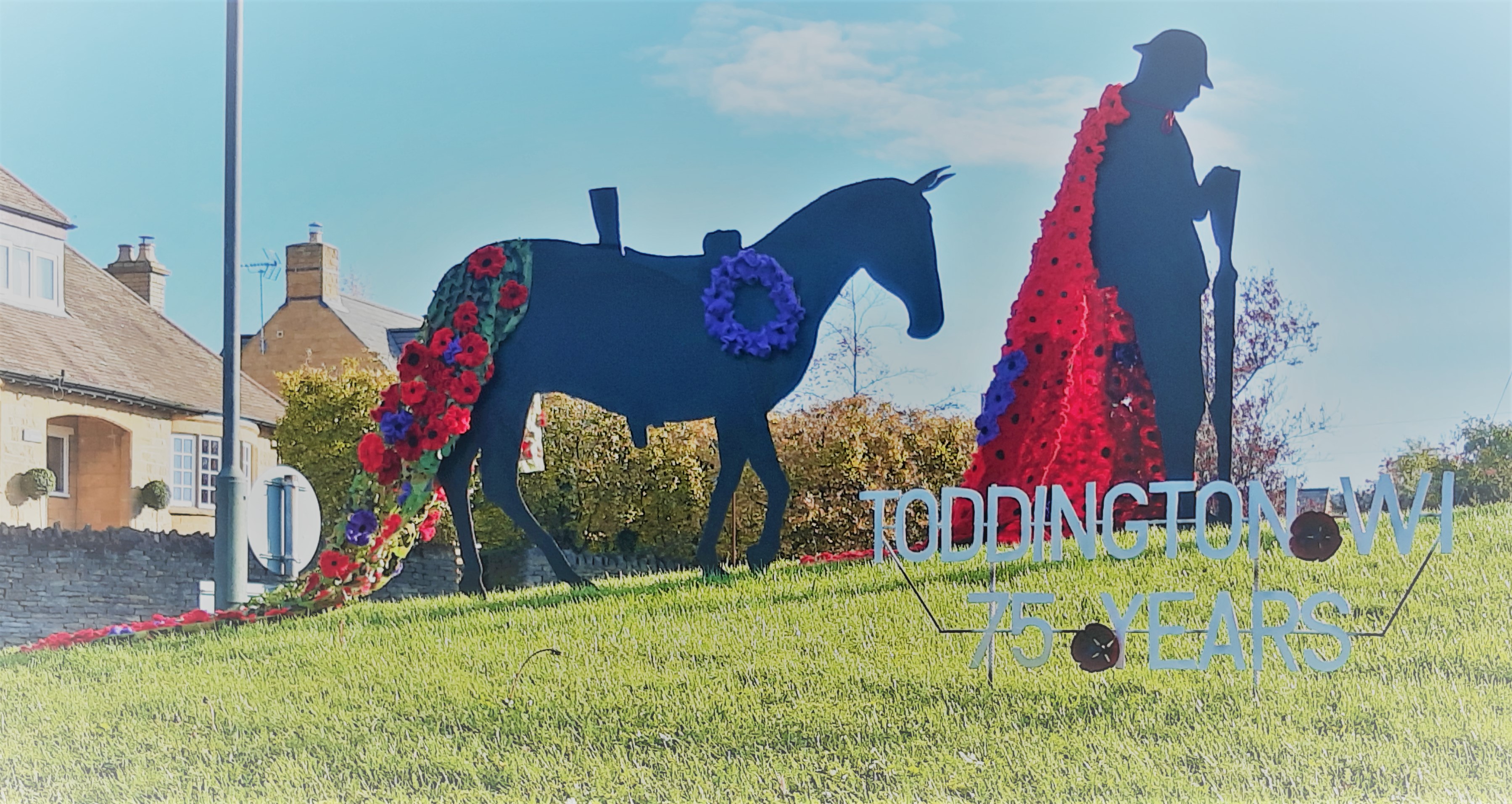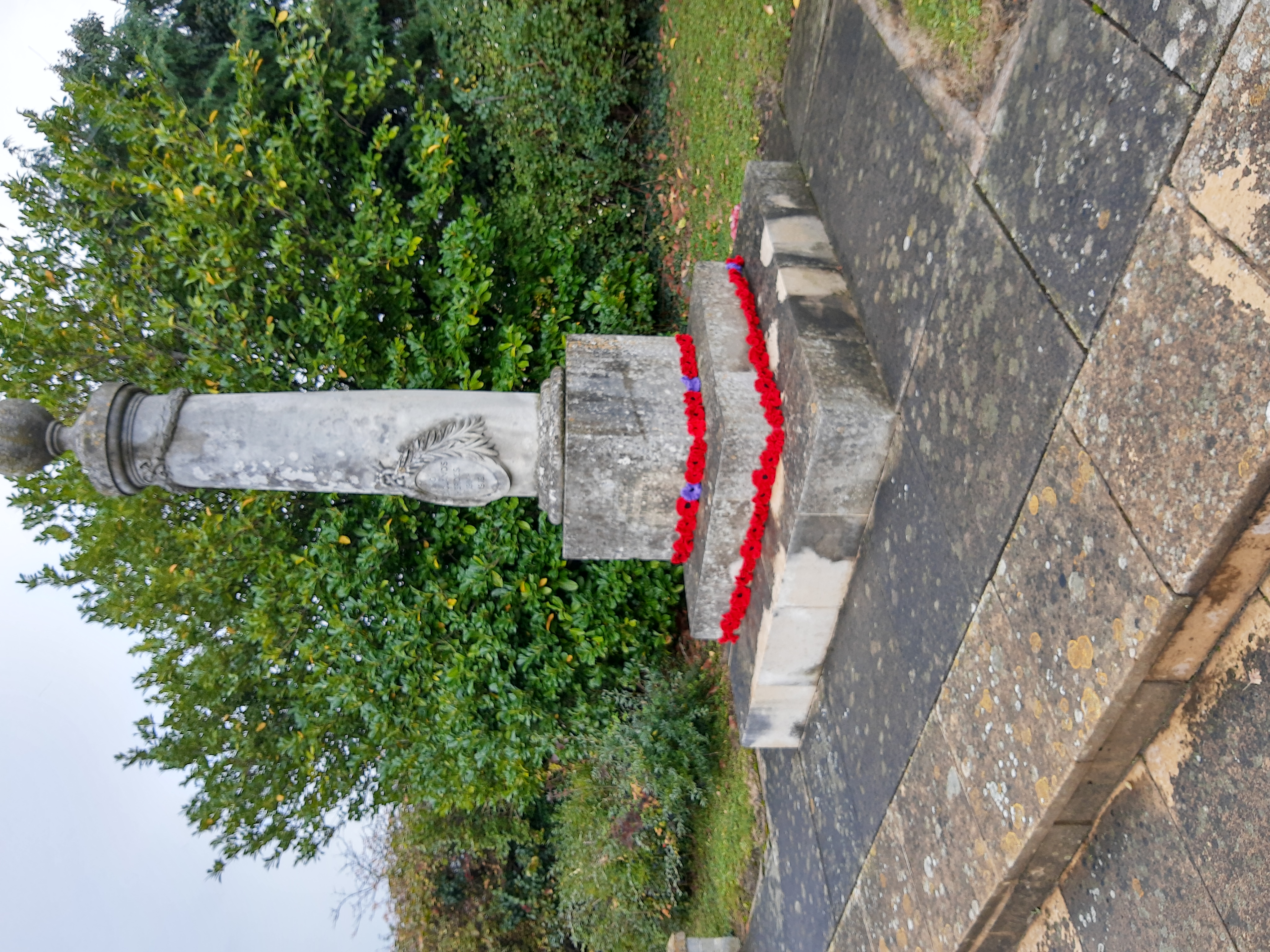 -----------------------------------------------------------------------------------------------------------------------------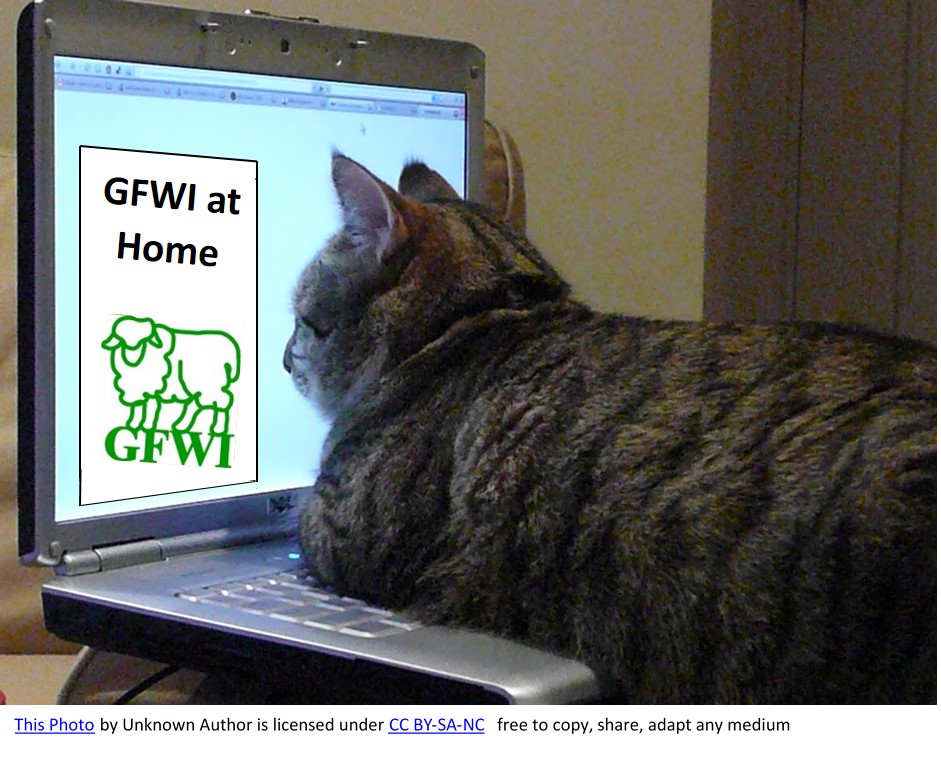 For full details of events on offer - look at the Things To Do tab.
June 2020
News from NFWI about subscription payments
SUMMARY: It has been agreed to extend the current membership year by three months. This means the 2021 membership year will start on the 1st April 2021 and that membership will be payable in April each year thereafter.
Membership subscription extension information and FAQs
The NFWI has been very concerned about the disruption this lockdown period has had on WI meetings and activities and your membership experience this year. We recently held consultations with all federations to discuss ways in which we can acknowledge this in our membership subscription this year.
We are delighted to share with you that as a result, we are offering a three-month extension to this year's membership subscription. The next renewal date for membership subscriptions will, therefore, be 1st April 2021. In addition, from this point onwards, membership renewals will always be in April. This is to acknowledge the feedback many of you shared with us during the recent Strategic Vision consultation about the challenges of the January payment date and how you wished to see this changed in the future.
We hope the additional three months will provide some compensation to acknowledge the disruption many of you will have experienced this year.
Please see below some FAQs to explain a bit more about the process and how this will impact WIs. Please note we will be adding to these FAQs over time, as new questions arise.
Q: Will the subscription fee still be increased in 2021?
A: Yes. The 2021 fee has already been agreed by federations and the NFWI, and budgets across the organisation will have been agreed based on this.
The cost of the three-month extension to the organisation as a whole (all three levels) is £1.7m, which comes with considerable financial challenges, particularly to our federations, and reducing the subscription fee for 2021 would put all three tiers of the organisation in an even more precarious financial position. It would also in all likelihood necessitate large increases to the subscription in subsequent years.
The NFWI Board of Trustees works hard to keep subscription increases as low as possible. Despite the predicted economic downturn, the costs incurred by WIs, federations and the NFWI will not go down. If membership fees do not keep pace with annual costs, it will financially destabilise all parts of the organisation. This will not only create a deficit position but will also decrease the organisation's resilience to future issues and disruption, such as those faced during the Covid-19 period. There would also inevitably be a need to exponentially raise fees in later years, above the cost of inflation, which would no doubt result in a drop in membership.
The 2021 subscription cost will be £44. Of this, 49.3% (£21.70) will go to the WI, 23.20% (£10.20) to the federation, and 27.50% (£12.10) to the NFWI. Out of the £1 increase, only 20% is going to the NFWI, 20% to the federation, with the large majority of the increase remaining within the WI (60%).
Q: Will the new subscription payment date (April) be kept in place permanently?
A: Yes. A change of payment date away from January, a financially challenging month for many, will hopefully be a welcome change for members and reflect the feedback many of you shared with us during the recent Strategic Vision consultation. As we move out of this Covid-19 period and look to the future of the WI, our aims to be more inclusive and flexible are central to all considerations and we are delighted to be making this permanent change to what many of you have told us you feel to be a practical barrier to membership.
Q: Is a decision on this matter being taken too soon?
A: It would not be appropriate to ignore the many enquiries we have received from members, and it is important that you, our WI members, know we are listening and acknowledging the disruption to your WI experience.
Even at this stage, we do not know the full extent of disruption Covid-19 will have on WI meetings and events, and even as we emerge from strict lockdown, we are very aware that 'normality' is still a long way off and WIs may be unable to meet for the foreseeable future. However, after considerable financial analysis by our Finance Department, we are aware that it would not be possible to offer any further financial assistance without crippling the organisation, so it would not be fair to wait any longer without acknowledging the disruption. Many charities are not offering any compensation at all, so although we are aware that three months is not reflective of the full extent of disruption, we hope members will appreciate the reason behind this.
Q: English Heritage has offered a membership extension with an 'opt-out' scheme. Is this against the WI constitution?
A: Yes. English Heritage (and National Trust) are not federated charities and therefore adhere to different charity rules. A central principle of our constitution is that all members pay the same membership subscription each year which is set by the NFWI in consultation with the National Council. If changes are made to the subscription they must be applied to all members equally.
Q: Some WIs are considering collecting fees for national and federation but not for themselves. Is this permissible?
A: No. Constitutionally every WI member must pay an equal subscription fee, and it would not be fair or in line with our constitution for some members to be offered a lower fee, but not others. Although many WIs will be saving money during this lockdown period there are others that have fixed costs. There are also many WIs who have adapted online meeting programmes and are incurring regular costs, such as speaker fees. We also know that many WIs are looking at ways in which they can use any savings accrued during the lockdown period to enhance the experience of members once normal activities are resumed and to compensate for the disruption to their programme.
Q: How will small WIs with no cash reserves cope with the financial hit?
A: Many WIs will have reduced expenses over this period and will, therefore, be making savings. If your WI has not been able to save on fixed costs during this period, we encourage you to explore what government grants may be available, in particular those WIs who own their own halls. If you have any concerns regarding your financial position then please contact your federation team in the first instance for support. NFWI are continuing to monitor the financial situation of all three levels of the organisation and proactively identifying ways in which we can identify savings.
Q: Will all members be notified directly of the change?
A: We are aiming to ensure that this message reaches all members as soon as possible. A formal notification was sent from Julia Roberts, NFWI Honorary Treasurer, to federations, there is a memo in the July WI Life magazine, posts on social media, this page on My WI, and a letter in the July WI mailing. We hope that by ensuring the message is consistent across all our channels of communications, it will reach all members; but please do ensure you share the news with all the members in your WI too.
Q: Does this also apply to Associates?
A: Yes, the extension to the current year membership year also applies to all our Associate members.
Q: How would pro-rata membership work with the proposed new payment dates?
A: The pro-rated fees will remain the same, except for members who will join from January to March 2021 who will pay the same rate as those who joined in the quarter 1 October to 31 December 2020. The rates are as follows:
| | | | | |
| --- | --- | --- | --- | --- |
| Date of joining 2020 | Total subscription | WI share | Federation share | NFWI share |
| 1 Jan-31 March | £43.00 | £21.10 | £10.00 | £11.90 |
| 1 April-30 June | £32.25 | £15.83 | £7.50 | £8.92 |
| 1 July-30 Sept | £21.50 | £10.55 | £5.00 | £5.95 |
| 1 Oct-31 Dec | £10.75 | £5.28 | £2.50 | £2.97 |
| 1 Jan -31 Mar 2021 | £10.75 | £5.28 | £2.50 | £2.97 |
---------------------------------------------------------------------------------
May 2020
https://www.gloucestershire.gov.uk/gloucestershire-county-council-news/news-may-2020/mobile-covid-19-testing-site-set-up-in-county/
Mobile Covid-19 testing site set up in county - Gloucestershire County Council
A new drive-through mobile testing unit (MTU) for coronavirus is being set up in Gloucestershire.
It will be running for five days, from Thursday 7 May until Monday 11 May inclusive, and will be based at Oxstalls Tennis Centre in Gloucester.
People with symptoms including key workers, people living with them or over-65s can attend the site, which is run by the Department for Health and Social Care (DHSC), to be tested.
The full list of who is eligible to attend is here: www.gov.uk/guidance/coronavirus-covid-19-getting-tested
Anyone with symptoms who is in the key groups listed can log onto the website and register via the self-referral portal. If they meet the criteria, they will be issued with a unique code and will be able to select the Gloucester location, as long as appointments are available.
The nearest alternative sites currently available are at Bristol Airport and Worcester Rugby Club, so a case has been made to the DHSC to try the mobile unit to enable more Gloucestershire residents to access testing.
It is an important step in tackling Covid-19 in the county as it will establish if people with symptoms have the virus, to determine whether they can return to work or need further advice and support.
People who cannot drive to the site can order a home testing kit but supplies are limited. There is also some capacity for frontline health and social care staff to be tested as part of the local NHS testing centre in Brockworth, but this must be booked through employers.
The MTU will be put up and disassembled daily by the military. Gloucestershire County Council and Police have worked together to ensure that signage, entrance and exits and traffic flow are managed and there will be a team on site to ensure it runs smoothly.
Angela Gilbert
Community Development Team Manager, GRCC Cheltenham Office – Tel 01242 227737 or 01452 528491
--------------------------------------------
02/05/2020
NFWI Public Affairs Digest - May 2020
In the digest there are updates on all the latest WI campaigns - this can be delivered straight to your own email inbox - click here to sign up: MyWi
Contents:
Resolution update
Make Women Visible
SOS for Honeybees
Share your experience of the current crisis
New Government plan to tackle loneliness
The Fixing Fast Fashion toolkit is here
Last words
RESOLUTION UPDATE
As the Annual Meeting at the Royal Albert Hall on 4 June has been cancelled, the NFWI is currently considering how to proceed with the 19/20 resolutions.The decision will be made by the Board of Trustees in early May and will be announced shortly after. Please keep an eye out on our website and in social media for further updates.
MAKE WOMEN VISIBLE
We've united with 60+ organisations to call for immediate action from UK Government to protect women and girls during the Coivid-19 lock down. Existing inequalities mean that women will be disproportionately impacted. 2.5 million of the 3.2 million workers employed in the highest risk roles are women - on the frontline caring for the sick and elderly, keeping our hospitals clean and pharmacies running. Women make up the majority of people living in poverty and are more likely to be in low paid and insecure employment. Many women and children are now trapped in their homes, self-isolating with an abusive partner. And yet women seem to be largely absent from the highest levels of decision-making in the UK.
We need the UK Government to recognise the gendered impact and take the following action:

1. Make women visible in crisis decision making
2. Make women safe at work
3. Support parents during school & nursery closures
4. Protect women from poverty and homelessness
5. Protect women from violence and abuse during lockdown
6. Make destitute migrant women safe & release women from immigration detention
7. Safeguard disabled women's rights, quality of life and care
8. Protect elderly women in care homes
9. Reduce the number of women in prison to save lives

Women should be better represented at the crisis decision-making table. Senior women politicians, civil servants with responsibility for policy issues that significantly impact on women, including the Domestic Abuse and Victims Commissioner, as well as gender equality experts should be at the crisis decision-making table.

Protect women from violence and abuse during lockdown An urgent injection of cash is needed from national and local governments and trusts and foundations to ensure that specialist frontline violence against women and girls services and women's organisations can cope with the impact of coronavirus and respond to increased demand.

For further information click here. You can also visit the WI's Facebook and Twitter page to share this and show your support.
SOS FOR HONEYBEES
New materials for Honeybees on World Bee Day: There is no better time to spend time in your garndem. Please visit our latest edition of our SOS for Honeybees blog which gives you some ideas on the bee-utiful springtime pollinator-friendly flowers you could plant.
The PA team have been working with our experts to produce some additional materials for our SOS for Honeybees campaign. Keep an eye out for some new recipes, gardening tips and craft projects, which will be launched on World Bee Day - the 20th of May.
As always, you can download our SOS for Honeybees action packs from the website, in addition to recipes and gardening tips.
If you already made your garden into a pollinator haven, please do send us some pictures to pa@nfwi.org.uk. Your pictures may also feature on the NFWI's social media accounts.
SHARE YOUR EXPERIENCE OF THE CURRENT CRISIS
Since the launch of the WI's Make Time for Mental Health campaign, the NFWI has worked closely with the charity Rethink Mental Illness to inform our work in this area, and continues to do so to help shape our response to Covid-19.

Rethink has recently launched an online survey to gather information about how people living with mental health problems have been affected by the coronavirus outbreak. If you have a mental illness or care for someone who does, you can take part in this research here. Please also share with anyone you know who might be interested.

The information you provide will help them and consequently us understand whether people have been able to get the support they need and how the Government should respond.
NEW GOVERNMENT PLAN TO TACKLE LONELINESS
We were pleased to see that the Government has launched a plan to tackle loneliness and social isolation during the coronavirus outbreak and period of social distancing.
The plan includes:a new public campaign launched by Culture Secretary to get people talking openly about loneliness;
loneliness to be a priority category of £750 million charity funding package;
£5 million boost for national loneliness organisations leading the charge;
Government guidance on supporting yourself and others safely;
loneliness charities to be supported to work with NHS Volunteer Responders in their communities; and
a network of high-profile charities, businesses and public figures to join the 'Tackling Loneliness Network'
To find out more, click here. If you're looking for ways to help your local community at the moment, visit the Link Together page of the WI website for some ideas, and don't forget to let us know how you are getting on.
FIXING FAST FASHION TOOLKIT

The Fixing Fast Fashion event toolkit is here!

Unfortunately, we won't be able to hold events for a while yet, so the full version will not be available to download until then. For any members that wish to get going on fixing fast fashion from the comfort of their own home, we have produced an abridged version of the event toolkit featuring the repair guides and the pledge fridge magnet activity.

The full toolkit will include:
- Information for how to prepare for and host a fixing fast fashion event
- Resources and information about fixing fast fashion from the clothing charity, TRAID
-How-to guides for making
- Basic clothing repairs
- End Plastic Soup drawstring bag
- A pledge fridge magnet
We are also finalising an informative PowerPoint presentation, combining both the presentations from TRAID and the NFWI, and a supplementary script to aid you in any future events. These, along with a downloadable version of the toolkit will be available on MyWI once we are again able to hold events.

You can now download the repair guide on MyWI.
LAST WORDS
Support and help during pandemic

This can be a particularly difficult and worrying time for adults and children living with domestic abuse. This link will take you take a page of support sources, please share as widely as possible. It is important that survivors know that they are not alone.

This can also be a difficult and worrying time if you require additional assistance. If you need emergency food or support you can find the contact details of your local food bank using your postcode here.

If you are able to support your local food bank with donations or by volunteering, click here to visit the FareShare website.

You can also visit this section of our website for information from the NFWI on ways you can help your community, sources of support and other helpful information such as setting up a virtual meeting.
--------------------------
OLD, BUT STILL USEFUL, INFO...
www.thewi.org.uk/home/my-virtual-wi
As the WI has always been at the centre of communities, our first priority during this uncertain time is ensuring WI communities are as strong as ever. We ask all WIs to think about how they can strengthen their WI community, including taking their usual activities and meetings online, ensuring WI members can continue to reap the benefits of their membership. We are sharing lots of case studies on social media and the website to give some ideas and inspiration. Please get in touch with us or post on social media to show what you are doing in your community.
Resources on My WI
In case you have not already seen, NFWI have been sharing lots of resources on My WI over the last few weeks. Many of these link with the #MyVirtualWI initiative, such as hosting virtual meetings and arranging online sub-groups, as well as resources about looking after your mental health during this time of isolation. FAQs about the impact of Covid-19 on WI meetings and events, and a wide range of exciting craft, cookery and sports activities to keep members busy during isolation are also available.
- How to host a virtual meeting
- How to look after your mental health during Covid-19
- Craft projects using your 'craft stash'
We are aware there are WIs who are not online and members who do not have access to a computer. So,for example, you may wish to ring each other frequently and particularly focus on looking out for vulnerable members who may need additional support, such as to get shopping or pick up prescriptions...or just to have a feindly chat during this time of loneliness.
The WI will be a huge support network for many members at this time and we would like to thank you for all of the work you have already done to support your members.
Let us know what you're doing in your WI to help each other through the isolation so that we can share with each other.
----------------------------------------------------------------------------------------------------------------------------------------------------------------
23/03/2020
Gloucestershire's councils and partners have created a community help hub to connect local people who need help, with others who can provide the support they need.
As further measures are put in place to delay the spread of Covid-19, local people have already started to pull together to arrange help in their area for those who need it, but not everyone has existing connections.
In response, the council's across the county have come together with the police and health partners to create the hub to connect local people who need help, with individuals, groups and businesses who can provide the support they need.
The hub includes four forms:
'I can offer help' – is for those who are able to support neighbours with tasks such as picking up prescriptions, shopping, dog walking and more
'I need help' – can be used by individuals to ask for support
'My neighbour needs help' – may be used by people to request help on behalf of a neighbour, relative or friend who cannot access the internet themselves
'My business can help' – will allow local businesses who may have skills and resources others could benefit from, to offer their help
The information collected will be shared with the relevant local council who will connect people who can help each other, or if appropriate refer individuals to an existing service.
Residents are encouraged to share details of the community help hub on social media using the hashtag #GlosCommunity
The hub will be accessible from every district council website, and from the county council's website at https://www.gloucestershire.gov.uk/helphub
Mark Hawthorne, leader of Gloucestershire County Council, said: "At times like these our communities really come together to help others and it's clear that there are many people who are keen to offer help where they can. Working together with our partners, we want to ensure that everyone is able to access the support they need and I'm confident that the community help hub will make this possible."
Angela Gilbert
Community Development Team Manager
GRCC Cheltenham Office – Tel 01242 227737
Grove Street, Cheltenham GL50 3LZ
For further information on the virus, please see the NHS website - here