RESULTS OF THE GFWI BOARD OF TRUSTEES ELECTION (26/03/2020)
Janice Cole - Federation Chairman, Denman Amassador (shared)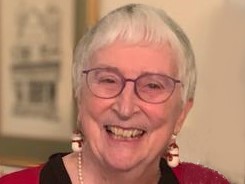 Liz Goldie - Federation Treasurer, Marketing & Publicity Committee Chairman, Denman Ambassador (shared)
Maggie Vinson - Federation Vice Chairman, Homes, Craft & Gardens Committee Chairman
Viv Woodger - Federation Vice Chairman
Pat Stephens - Vice Treasurer
Pat Beard - Public Affairs Committee Chairman
Wendy Custerson - Sport & Leisure Committee Chairman
Judith Dodd - ACWW Representative
Sheila Rowley - County Archivist
Lesley Watters - Speakers Coordinator
Kathy Law - Newsletter Editor, Digital Team Member
Sue Davies - Health & Safety Officer & Resolutions Coordinator
Rose Stower - without portfolio
-------------------------------------------------------------------------------------------------------------------------------------------------------------
Loneliness – 'I wandered lonely as a cloud…'
Although Jan, Maggie or I did not know what to expect when we were invited to the Survivors of Bereavement by Suicide (SOBS) and 2 gether NHS Trust Conference on 24th June 2019 we were all glad to have attended. The day commenced at 9.15am and was stimulating, emotive and full on from start to the finish at 4.15pm. The aim of the conference was to consider the reasons behind loneliness and isolation across all aspects of our society. The morning speakers discussed a wide range of schemes including one which helps older people reconnect with their local services and community. I found the talk given by The Rainbow Trust and Together for Short Lives very thought provoking as I had not considered the loneliness and isolation experienced by children, especially teenagers, when they have a sibling with a life limiting illness. Stephanie Berkeley, manager of Farm Safety Foundation (Yellow Wellies) gave a very emotive presentation of the effects and pressures of lone working on our farmers. Suicide rates are particularly high amongst this group and are increasing. Best speaker of the day for me!
After lunch and a chance to do some networking we regrouped for the afternoon to hear about a wide variety of services that are reaching out to the lonely members of our society. Social Prescribers who enable people to re-join society, The Silver Line- Telephone helpline 0800 4 70 80 90 for over 55s set up by Esther Rantzen, Gloucester Rugby, Horses Helping People with Depression and Anxiety, Gloucester Armed Forces and Veterans Breakfast Club and our very own Jan who gave an informative and amusing talk on the value of the WI .
This was a well organised, informative day and I felt there was a positive feeling amongst the audience that by working together to raise awareness and do our bit in our own communities we can reduce the numbers of people living under the cloud of loneliness and isolation.
Sandie Baker
Public Affairs Committee
GFWI visit to Majid-e-Noor Mosque, Gloucester
We were warmly welcomed by the Imam and introduced to the three ladies who would give us an insight into the Muslim faith. It was interesting to hear about the 5 pillars of their faith, Shadadah – declaration of faith; Salat – praying five times a day; Zakat – giving money to charity; Sawm – fasting during the month of Ramadan; Hajj – at least one pilgrimage to Mecca. However it was the insight into the Muslim faith from a women's point of view that fascinated us all, as the many questions from the floor proved. The ladies were very keen to stress that underneath their hijab they are no different to any other woman; they have the same worries, concerns, tears and joy and are constantly juggling work and home life. However, contrary to public belief, they find the hijab liberating as they are judged as individuals, not just by their looks, whereas the simple plain clothing is practical and frees them from the whims of fashion!
We were split into teams to take part in a general knowledge quiz which proved to be interesting as most of us were sat on the floor so movement was somewhat challenging! Our answers showed how informed WI members are as there was a close call on the prize for the most correct answers. However the quiz did highlight some misconceptions which our lovely ladies were able to correct.
One issue that was discussed is how Muslim women are respected within their community. The women stated that the Koran held women in high esteem; their dress is to protect their modesty whereas when praying at the Mosque this is done apart from men to enable the men to stay focused whilst protecting their dignity during prayer positions.
Our final treat was to have the prayer process demonstrated to us and informed how the Imam carried out proceedings before he shared a prayer with us. I found this very moving as his voice was so melodic and by the responses around I was not alone!
The time certainly went very quickly, as we were so enthralled, and has left us keen to do more research into this ancient faith.